Recent Posts
Eve's Story breathes life into the woman of Genesis and her mate in a realistic prehistoric setting that honors both the ancient faith and informed premises about what life might have been like for intelligent humans living in Africa tens of thousands years ago.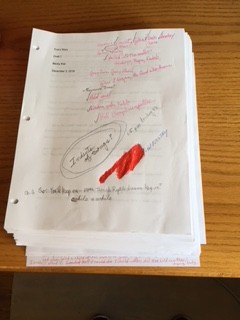 Becky Kiel
Why did I stop writing? Which time? It happened twice.
I must have been about 12 when I told my grandmother I would be a writer. Don't know why I said it or why I remember saying it. Through junior high, high school, and college I jotted verses in my school notebooks. Took a college course in creative writing, the first time I showed my work to anybody. Graduating with a degree in English and a teaching certificate, I turned my back on that youthful writing interest and entered the adult world of real jobs.
For 23 years creative writing disappeared from my life. Working in the public library, I wrote a monthly book review for the newspaper. Readers didn't rush in to check out the reviewed books, but my fans looked forward to the next review because they liked my writing. I felt odd that my reviews didn't persuade people to read those books.
Years passed. Curled up on the couch on a Saturday morning, I finished reading a novel, put it down, and started to get dressed for the day. In the shower hot tears dribbled down my face while the water sprayed my body, and I said, "I wish I could write like that."
The logical side of me said that was odd, that tears should have been for the characters who finally muddled through their plot twists. Where did my statement come from? And what to do about it?
I attended writing workshops at the University of Missouri – Kansas City, University of Iowa, and Indiana University. A writer at Indiana, looked up from my work and told me that I couldn't write because I was a librarian, and librarians don't write. He knew it because his mother was a librarian. In Kansas City Sharat Chandra, the poet, looked over some of my work and said, "Something unique is slowly emerging." I stifled my urge to yell at him what do you mean SLOWLY? My young adult days were past. If writing were going to happen in my life, it needed to take off soon!
In another twist, I turned all my energy to running the college library, first as acting director, then as director, telling myself that I would write again but not now. The second time that I stopped writing.
In 2011 my husband, Dyke, and I decided together to retire 2 years later. Sitting at home on a Saturday in June, we wondered what we would find to do when we didn't have our jobs. I said, "When I retire, I'll write." A little voice inside of me said I had hardly written in 10 years. How was I going to start writing again after retiring from my job? My writing self didn't wait 2 more years.
Within a couple of weeks, I stood in the library looking at a magazine, maybe National Geographic, at an article about Homo sapiens nearly going extinct. This happened 70,000 years ago when a catastrophic drought killed most life forms in Africa. Few people survived, some on the south coast, some on the west coast, and some by the Nile. How did they cope with seeing themselves as the only people left in the world? I strained my brain, trying to see these desperate people in a world of 70,000 years ago. Not much clue what it would have looked like. Putting the magazine in its place, I went to my office, and the images went with me. Days passed. Instead of fading, the prehistoric people talked to each other in my head about their fears, despair, hope, plans, chance events, and their dream for a better life for their children.
I began to write EVE'S STORY.
Before turning to writing full time, I worked at the University of North Texas Libraries, Nevada (Missouri) Public Library, and the Cottey College Library. As for education, I attended Longfellow Elementary, Rusk Junior High, and Thomas Jefferson High School in Dallas, and then Lamar High School before graduating from Bellaire High School in Houston. I completed a BA Degree in English at Sam Houston State University where I fell in love with a man named Dyke, with a sense that a future with him would make for an interesting life - maybe an unspoken wish for stories to tell. I taught 9th grade English at Dickinson (Texas) High School and worked as an employment counselor before the U.S. Army sent Dyke to serve in Anchorage, Alaska for 2 years. Alaska was a beautiful place of salmon fishing in icy rivers beneath snowy mountains, learning to ski, and gathering for wine tasting parties with Army buddies and wives. On returning to Texas, I began my library career.

My husband, Dyke Kiel, Ph.D., taught music at Cottey College until his retirement. He is putting the finishing touches on his edition of the folk opera, "Afiwa," by the West African composer Nicholas Ballanta. I wrote the Wikipedia article about Ballanta. His project took us to Freetown, Sierra Leone in 2001 and again in 2008 where we ate fresh crab and tropical fruits while gazing down the hillside over the tops of palms at the Atlantic below. Since my novel is set on the banks of the Nile, we traveled to Egypt for a Viking river cruise in 2016 where I tried to imagine the area before the pharaohs built cities on the banks of the river.